By studying online with the University of Liverpool you can not only obtain a postgraduate qualification from the original 'redbrick' university, you can also study from anywhere in the world. If you are considering one of our online master's programmes but would like to know more about the aspects of remote learning, in this blog post we will dive into what you may expect from an online module of study. 
How might an eight-week module be split up?
At the University of Liverpool, we have structured the programme so that you can undertake one eight-week module at a time. Once you complete your two-week induction, you will enter the first week of interactive learning. Typically, the first week of each module takes the form of an introduction to the content that will be covered over the following weeks. You will be expected to engage on regular basis within the module and submit all assessed and non-assessed tasks by the module deadline. While we want our students to enjoy the delivery of the programme, we aim to ensure it remains rigorous. For this reason, we advise that you allocate 15-20 hours per week to study to ensure you absorb the programme content effectively.
Usually, each week introduces you to a new topic as part of the module scheme. The resources and your timetable are accessible through your Virtual Learning Environment (VLE) account, where we have produced interactive materials to enhance your learning experience. Throughout each week, you will typically have an activity to complete to build on the knowledge you gained in the virtual class. In terms of working through the content and assignments set out on weekly basis, you will be able to create your own schedule and complete tasks at your own time and pace. While there are occasional live sessions, these are normally recorded to ensure you can view the material at your own discretion in case you are unavailable to attend as we understand many of our online postgraduate students have other existing commitments.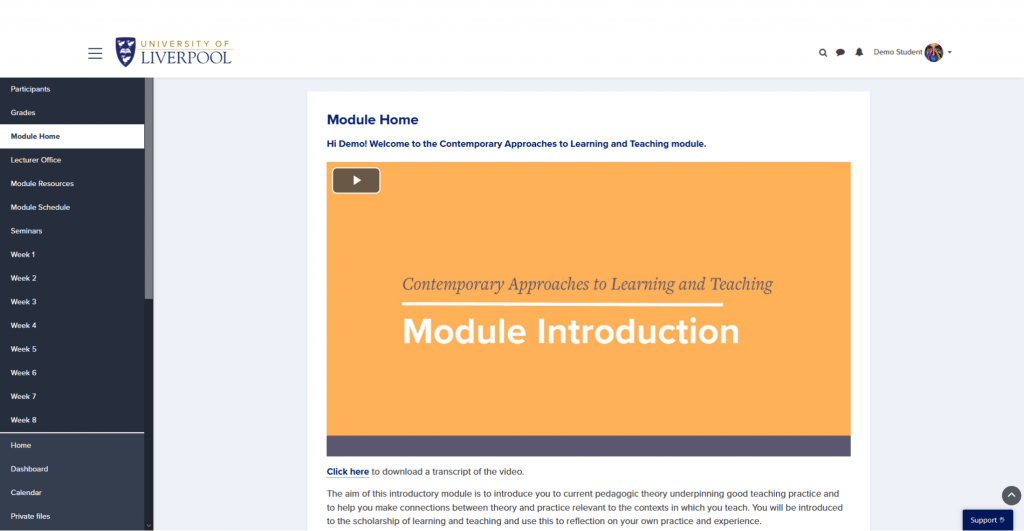 What kind of interaction is there with a tutor or other students?
Over the course of your studies your schedule will consist of both synchronous (live), and asynchronous (not live) sessions, where you will meet with your lectures and your peers to discuss module content such as case studies. Other interactions may include participating in group projects, tutorials, and social events to delve deep into the topics you study and share knowledge with peers from various parts of the world. Additionally, you will be able to socialise with your fellow students via the VLE messaging feature.
What sort of activities / assignments might be completed?
Even though you will be studying online, you are expected to undertake several rigorous assessed and non-assessed tasks. While most of your module material will consist of content that you will need to study in your own time, you will have lots of interactive activities, some with other students, and some with lecturers.
One of the key activities you will be required to complete each week is a lecturecast, which is similar to a standard lecture you would attend in a classroom. In this case, however, the lecturecast is broken down into smaller multimedia components as opposed to being a pre-recorded presentation. Components might include an introduction, individual topic aims, short tasks, infographics, multiple-choice questions, or check your knowledge activities. This multimedia material can also take the form of a short video, podcast or written case study. You will also be able to track the progress of each section of the lecturecast, allowing you to dip in and out of the material and complete it at your own pace.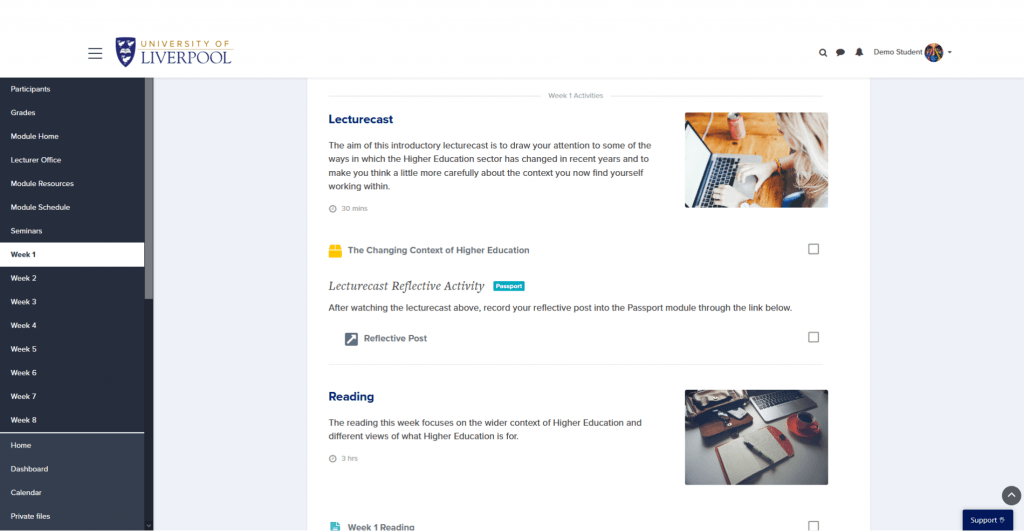 In addition to a lecturecast, you may find activities that are assessed and some that are not assessed. An example would be an assessed discussion forum, where you would select material topics to discuss in-depth with your peers and tutor. In some cases, such discussion forums would run over the course of a few weeks, where each week you would need to submit a written response and interact with your module peers. There are typically 20 students per module, ensuring the quality of teaching is maintained. In terms of tasks that are not marked, throughout each week you will carry out extension activities such as debates on relevant topics or reading relevant course resources from our online library.
Your final results are based on the coursework you complete as there is usually no need to take formal exams. As our aim is to prepare you to enter the professional environment, coursework may entail tasks you would be expected to complete in real life such as reports or presentations.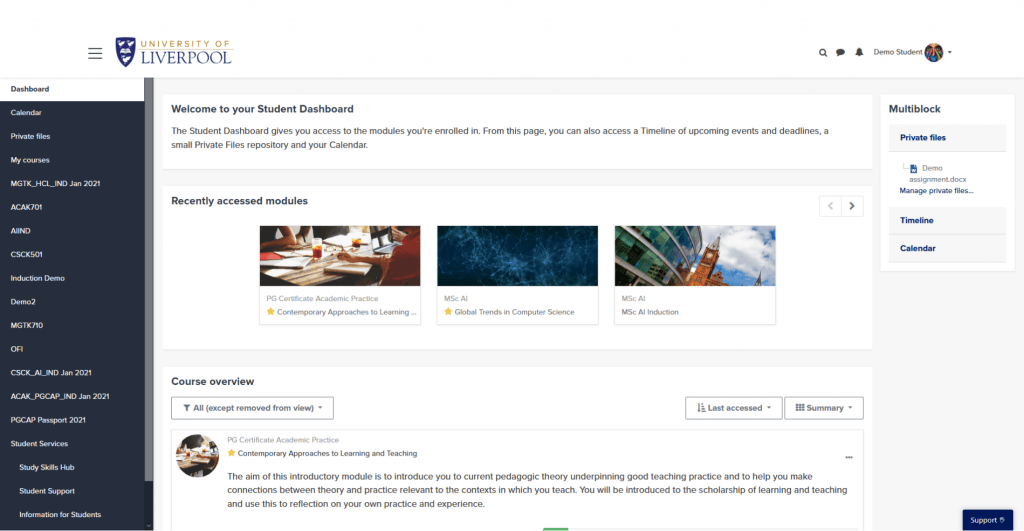 What support is available?
We are committed to supporting you during your online studies by providing access to numerous resources and advisors such as our Student Services Team, which consists of the Student Support Team, Study Skills Team and Student Welfare Team. Additionally, if you have any questions throughout your module, you can always contact your tutor either during your live session or via the Q&A forum; your tutor contact information is always available under the module home tab.
Depending on what type of support you need, whether it is academic, wellbeing or disability support, our team is on hand to aid you with any queries to ensure you are getting on with your programme comfortably. For instance, if you ever experience any circumstances which may impact your ability to study or submit an assessment by the deadline, you should get in touch with the Student Support Team as your first point of contact.
While the Student Support Team will be able to answer any general queries, for any matters regarding academic skills (such as planning assignments, using the online library, research or referencing), our Study Skills Team is there to offer the support you might need throughout your programme.
Additionally, if you need any help within the VLE, for example accessing your module resources, there is a live chat feature where you can speak with one of our student support advisors in real-time.
If you are wondering about whether you will gain access to our career resources as an online student, the answer is yes. All our online students are still University of Liverpool students, therefore, you will have equal opportunities in exploring career development through tutorials or CV support.
If you would like to know more about our online programmes, please get in touch with our Admissions Team.